Awards
Lilley Award for Literary Excellence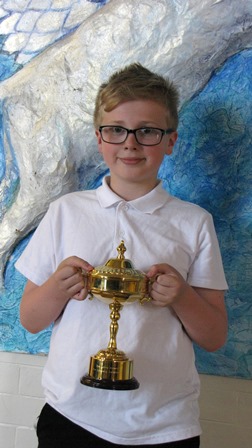 The Lilley Award for Literary Excellence recognises ongoing prowess in all aspects of literacy (including reading, writing, discussion, and presentation) and was introduced by our Headteacher, Mrs Lilley in the
summer term 2017.
In the academic year 2016-17, the Lilley Award for Literary Excellence was presented to Keaton Leigh
Shires Shield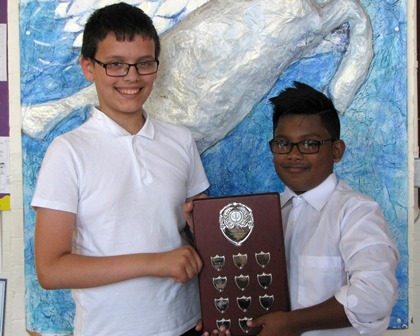 The Shires Shield is presented for excellence in maths and is named after our long-time Deputy Head, Mrs Shires.
In the Summer Term 2017, the Shires Shield was presented to Amine Sailaa and Koshik Rubamoorthy
In 2015-16, the Shires Shield was awarded to Dominic Monnet and
Danish Zeb
Arts Award
The annual arts award was introduced by Mrs Penny Oakley, a former Deputy Head of Swaffield.
At the end of the Summer Term 2017, The Arts Award was presented to joint winners: Olly Wemyss, Grace Gwynne, and Pen Hughes
In 2015-16, the award was presented to Tiana Ntopi
In 2014-2015 the award was presented to Alessia Burke and Marta Carli for their excellent work in a range of artistic areas
In 2013-2014, the award went to Alanis Dalledone and Ellie Richardson who have performed and taken part in a range of different artistic, musical and creative activities
Kilby Cup
The Kilby Cup is named after an ex-pupil, Roger Kilby, who attended Swaffield in the 1950s. Each year we award the Kilby Cup to children who have made a really positive contribution to sports in the school.
At the end of the summer term 2016-17, the Kilby Cup was awarded to Joelle Zonga and Madison Smith
In 2015-16, the cup was presented to Micaiah Thomas, Tyan Ford-McIntosh, and Helena Love-Revitt
In 2014-2015 the cup was awarded to Tremayne Huie Moseley for his excellent sportsmanship and contribution to team sports throughout the year
In 2013-2014, the cup went to Ethan Lamb-Oakley and Iman Kabia for their enthusiasm, sportsmanship and contribution to team sports
Eco Award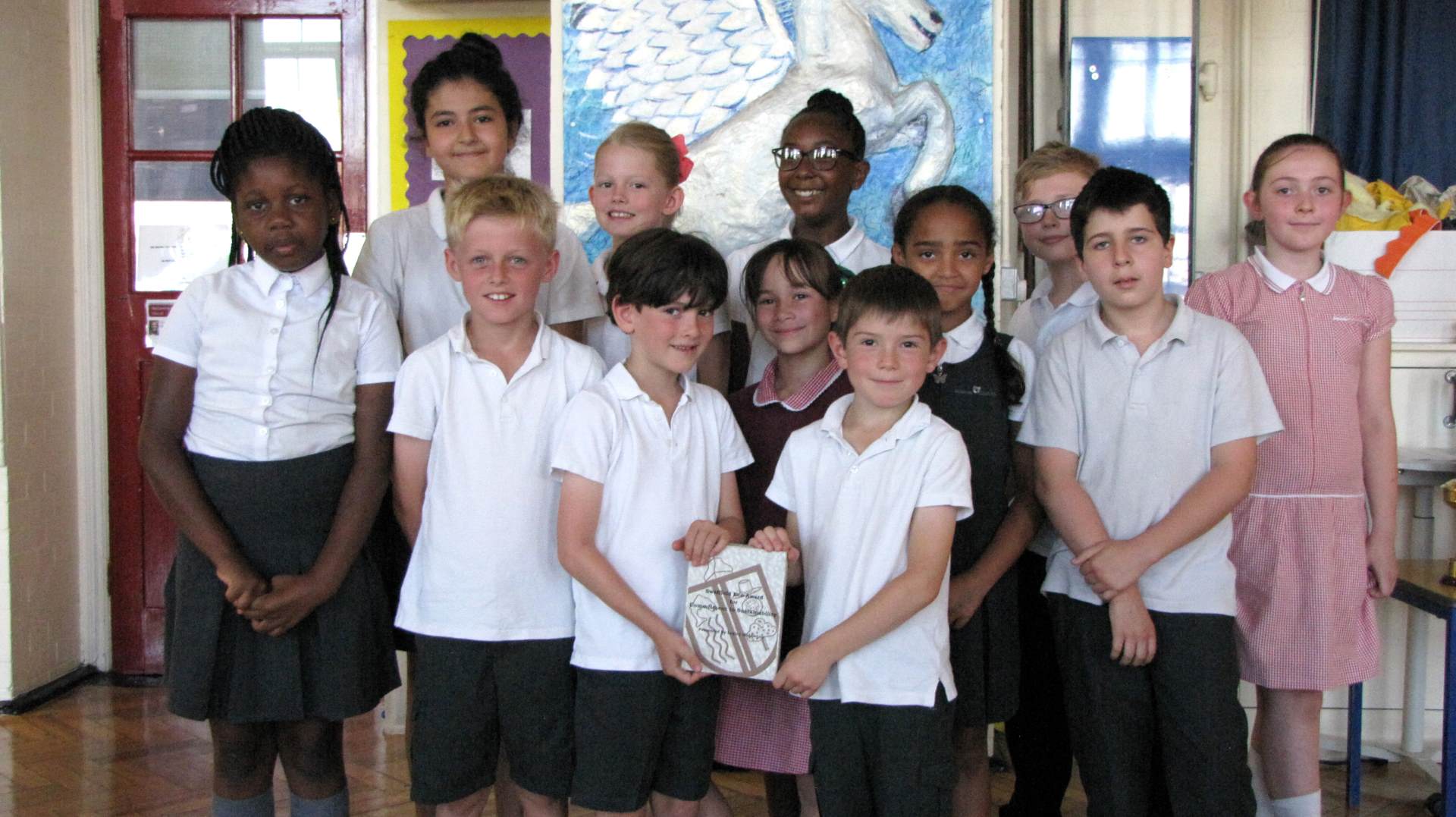 The Eco Award is given for commitment to sustainability, and in keeping with its ethos,
the award itself is made out of recycled yoghurt pots.
The Eco Award was introduced by our former School Business Manager Mrs Middleton.
In the Summer Term 2017, for the academic year 2016-17, the Eco Award was presented to School Council who were instrumental in updating our water fountains
In 2015-2016 it was presented to Nursery
Science Award
Swaffield School has been awarded the Primary Science Quality Mark.
This award scheme celebrates excellence in science in primary schools across the UK.
Mrs Naldrett, subject leader for Science at Swaffield, said:
I'm thrilled that we've been given this award. It's about raising attainment in science and increasing its profile within school but most importantly, it's about making science a fun, enjoyable experience for the children and igniting their interest.
STEM Ambassador Award
Swaffield was delighted to be recognised in 2017 for:
The commitment of staff for encouraging and inspiring young people
in STEM subjects through the use of STEM Ambassadors.
PE School Games Award
Swaffield was awarded the Sainsbury's School Games Mark at Silver level in the Summer Term 2017 to reward our commitment to P.E. and competitive sport.
Mrs Scott, subject leader for P.E., said:
We're really pleased to get this award. It reflects our commitment to P.E. here at Swaffield where it's a really important part of the curriculum.We now have more
opportunities than ever for children to learn about and enjoy sport.
Tfl Stars
We were very excited in Autumn 2013 to achieve a Gold Award from Transport for London (TfL) in its STARs accreditation scheme. The scheme, which stands for Sustainable Travel:
Active, Responsible, Safe is organised by TfL and rewards educational establishments for their achievements and commitment to encouraging sustainable forms of transport and road safety for the health and well-being of pupils, parents, staff and the wider community.
In that year, the STARs scheme accredited 1248 schools across London and Swaffield School was one of only 160 lucky enough to be given the Gold Award.
Sadiq Khan Christmas Card Competition
Well done to Jack Bolt, Class G whose Christmas Card design was chosen as the winner from Swaffield in this annual competition run by Rt Hon. Sadiq Khan, when he was MP for Tooting.
Jack's design joins the winning designs from other local primary schools on the back of Sadiq Khan's Christmas card which will be sent to more than 6,000 families, businesses, Government Ministers and celebrities all over the world. We're very proud of Jack who is continuing the Swaffield track record of fabulous designs for this competition.