Grow your own daffodils
DAFFODIL BULBS - THE LONDON CHILDREN'S FLOWER SOCIETY SPRING COMPETITION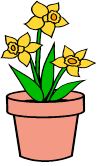 Eco Team has signed up Swaffield to take part in The London Children's Flower Society Spring Competition which means all Swaffield children have the opportunity to buy daffodil bulbs from The London Children's Flower Society to grow at home.
In the Spring you will be asked to bring the bulbs to school to be arranged in a wonderful display, which will be judged and prizes awarded, including merit certificates awarded to every child.
If your child would like to take part, please complete the slip on the letter we've sent home and return to the school office with your payment by Monday 7th October 2019. You will receive the bulbs and instruction sheet in a few weeks.